Florist of the Month - Nancy Zimmerman
Florist of the Month - Nancy Zimmerman
Nancy Zimmerman
Owner of Fancy Florals by Nancy
---
Nancy owns Fancy Florals By Nancy. She started her floral career about seven years ago and is celebrated as a go-to wedding florist in her state of Illinois.
She holds 5-stars on Google, Wedding Wire, Yelp, and the Knot (where she has also been awarded with the Knot Best of weddings for the past three years and was recently chosen to be in their hall of fame!).
She humbly accepts the praise and recognition, but has shown that her exceptional skills have come from a combination of natural talent, tenacity, hard work, passion, and grit.
Nancy's skills as a designer are impressive, it's hard to believe she has been designing for such a short amount of time, and with her precision and eye for detail it's no wonder she has received so much recognition.
I was so excited when she agreed to be one of our florist's of the month!
I'm very thankful she took some time out of her busy schedule to talk with me.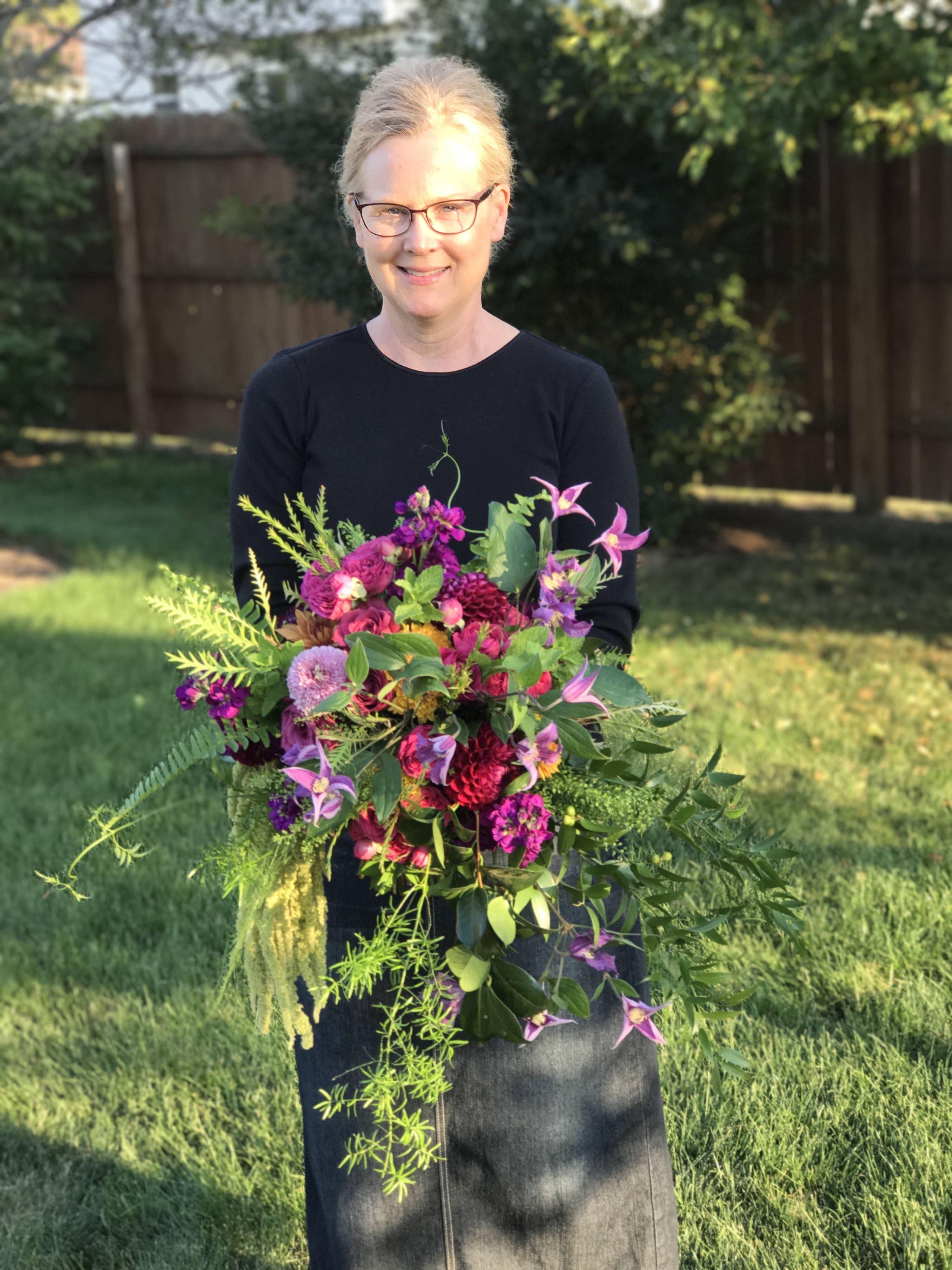 ---
ME:
You started your floral career later in life - that must have been a little intimidating! What advice would you give to someone that might be thinking of switching careers to become a florist?
NANCY:
It was very intimidating!! I am by nature timid and shy but I had this dream that evolved that drove me to jump in and act like I knew what I was doing. My advice to anyone that has a dream is to follow your heart and don't let fear of failure defeat you.
---
ME:
Do you think you learned more during your design classes or during your apprenticeship? How were they different?
NANCY:
The design classes were a great place to start. As a college course it was very broad based and touched on all aspects of floral design from history of floral design, learning to identify and spell the names of greens & flowers, where the flowers come from, care & handling, elements & principles of design, proper use of floral supplies for mechanics, proper wiring for different types of blooms, daily design, sympathy design, wedding design, and the business part of floral design from pricing to delivery.  
As I said it "touched" on all aspects, but doing an internship was equally valuable because it gave me much more in depth hands on opportunities to try out my skills. I was really fortunate because Julie was so sweet and encouraging – she was the perfect person for me to work with as she helped build my confidence, which I sorely needed.
---
ME:
About how long did it take you to realize you could start choosing the right clients, as opposed to every client?
NANCY:
In the beginning I needed every client so that I could get photos of my work, referrals & reviews and some operating capitol to buy supplies, props, containers, etc. After a couple years I became very busy, I found it hard to say no and was doing two and three weddings per week – whatever I could possibly manage.  
It gave me a lot of experience and made my business profitable but was a recipe for burn-out.
I had to make a decision on whether to hire employees and continue to grow or to move my business in a different direction which was to be selective with which brides I would accept, setting a minimum order and doing one large wedding per week rather than two or three smaller ones.  
It was hard to turn brides away but I have found that the bride with the larger budget many times takes less of my time than the bride who has to pinch her pennies so I am really working smarter instead of harder.
---
ME:
What is your favorite type of arrangement to design (Floral chandelier, arbor, centerpiece, corsage, etc.)?  
NANCY:
I have found that I really enjoy creating the centerpieces - especially compote vases and tall cascading statement centerpieces. Of course the bride's bouquet is the most special – sort of like the crowning glory of all the flowers!
---
ME:
What would you say your greatest success is so far?
NANCY:
When I read back through the reviews my couples have left me, what I am hearing from them is that I have the ability to "see" their vision and execute it. Because I am only a wedding florist and not distracted or overwhelmed with the day-to-day shop work, I can give my brides my full time and attention to really listen, allow them to change their mind, be kind and patient with them and promptly return their calls & emails.   I would say my greatest success is that I am able to delight the brides.
It still amazes me when they leave me such glowing reviews.
---
ME:
Do you have a favorite design style? What are you most drawn to aesthetically?
NANCY:
I adore the natural, romantic, lush garden style with a lot of greens and textures. It is what I do best I think because it is the look I love best!! The high style modern designs really don't appeal to me personally although I can certainly appreciate them when well done by others because I find the very stylized designs difficult.  
---
ME:
Where do you draw your inspiration for your designs? Do you sketch things out first, or use mood boards? How do you come up with the plan for your clients?
NANCY:
Most of my brides have a very clear idea of what they want. I have them give me access to their Pinterest boards or bring me photos of flowers & bouquets that inspire them. I know a lot of florists that think Pinterest is a curse, but I find it very valuable – A picture is worth a 1,000 words.  
Many times the bride's vision is not what I find personally appealing but up to now my goal has been to nail their vision.   This is an area where I am going to be able to be more selective with as I take on less weddings – I can accept the weddings in which the bride's vision appeals to me and in which the bride allows me some creative freedom.  
My favorite brides are the ones who seek me out because they love my work and trust me to create something beautiful for them without having to manage every bloom selection! The bride's budget helps dictate the plan and I try to work with her to give her the most bang for her buck.
---
ME:
As a work from home designer, how do you attract clients? Do you use social media, local events, and/or word of mouth? Which of these would you say is the most important?
NANCY:
As a small business owner without employees, I do spend a lot of time keeping my website, Facebook page, Instagram feed, and Pinterest board updated with fresh photos and content. I had a goal of trying to blog every two weeks, which I have sadly not reached!! I am lucky if I get a blog post out once per month.  
I also advertise on The Knot and formerly on Wedding Wire as well. I have been doing a wedding show once per year. I take advantage of free webinars that teach about SEO, Instagram and Facebook. This is an area where I have really had to get out of my box as part of the older generation.  
I still think that word of mouth is the most powerful form of advertising. I find that the brides who have been recommended to me are the ones who have their mind already made up they are using my services before they even have their consultation!
---
ME:
Have you ever had to work with a difficult bride? If so, how do you steer them in the right direction and set expectations?
NANCY:
I feel that God has orchestrated my business each step of the way. The first clients that contacted me were the perfect clients for me to start with and gain experience. Since then, I have tailored my contract to be clear about boundaries, what they can expect and what is included without incurring extra charges.  
I find that transparency, honesty, and kindness go a long way for healthy relationships with brides/mothers.  
I did have a bride who I had spent considerable time with who promised me she was going to book me, but dragged out the process of finalizing the proposal over several months and had never signed a contract or made a down-payment. She kept reducing items off the proposal and wanted to schedule more meetings. She collected all her own conglomeration of containers and vases and kept adding to it and changing things up. Even though I had turned away other brides for that date, in the end it became apparent to me that I had to let her go. The last straw was when she changed the proposal for the bridesmaid bouquets from my rock-bottom $65 to $50 and told me – I know that you can still make something beautiful for $50. I learned a lot from that experience!! ☺
---
ME:
You mentioned in our previous conversation that you are always learning. Do you have any upcoming workshops that you're excited about?
NANCY:
Yes!! In January I am going to do a workshop with Holly Chapel at Hope Flower Farm. I am super excited about this, as it is a 3-student class!
I attend the ISFA (Illinois State Florist Association) annual conference each year and sign up for the hands-on workshops.  
I also have taken all the boot camps that ISFA offers I got out of my box last March and attended Mayesh Design Star Workshop in Cleveland, OH. What drew me was the opportunity to work with Mayesh's Luxe blooms and the garden style compote vase design they were doing with Christy Hulsey 2017 Design Star.  
I loved the workshop, loved Christy and this led to Christy inviting me to go to Washington D.C. to help design the floral decorations for the Annual First Lady's Luncheon which in turn I met some more wonderful designers who I have kept contact with.
---
Scroll through some of Nancy's gorgeous images:
---
Check out this Florist of the Month & Follow Them on Social: